What happens when a news story breaks?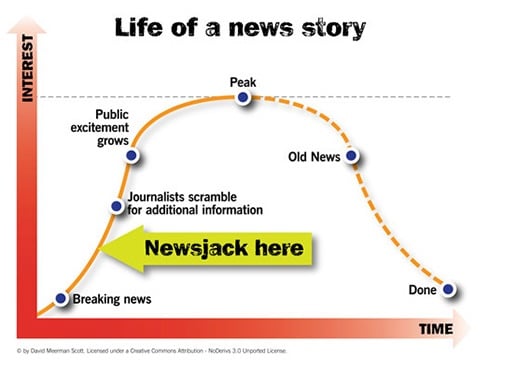 Download this image
News gathering happens in real time, and it can encompass anyone who steps forward quickly with credible input.
This creates a fierce and desperate hunger for newsjacking. Searching Google, Facebook, Twitter, blogs, YouTube, and whatever else comes to mind, the reporter scans for any plausible nugget to differentiate her story.
Potential customers alerted to a new trend want to learn more and some want to buy right now.
As journalists scramble to cover breaking news, the basic facts—who/what/when/where—are often fairly easy to find, either on a corporate website or in competitors' copy. That's what goes in the first paragraph of any news story.
The challenge for reporters is to get the "why" and the implications of the event.
All this is what goes in the second paragraph and subsequent paragraphs. That's why the newsjacker's goal is to own the second paragraph.
If you are clever enough to react to breaking news very quickly, providing credible second-paragraph content in a blog post, tweet, or media alert that features the keyword of the moment, you may be rewarded with a bonanza of media attention.
And it's that attention that drives new customers to your virtual doorstep!